Day 2 of the conference is amount to commence. Yesterday brought lots of networking opportunities & fabulous clinics/performances. Today you can catch myself and team "special projects" (or as I like to say Tim Harris' entourage) at the general session & the JW Pepper Reading session. I will also be promoting We Care Coffee, Rav Embroidery, San Jose State University, Music Filing Systems & JW Pepper Music.
Here's a few shots from last night's concert with San Jose State University & Eddie Daniels.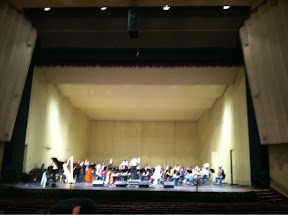 San Jose State on stage for sound check
Eddie Daniels & I :)
Happy Conference! And update from yesterday...they (the powers that be) are considering the whole "discount for multiple conference memberships). That would be thrifty!
- Posted using BlogPress from my iPhone
Location:M St,Fresno,United States